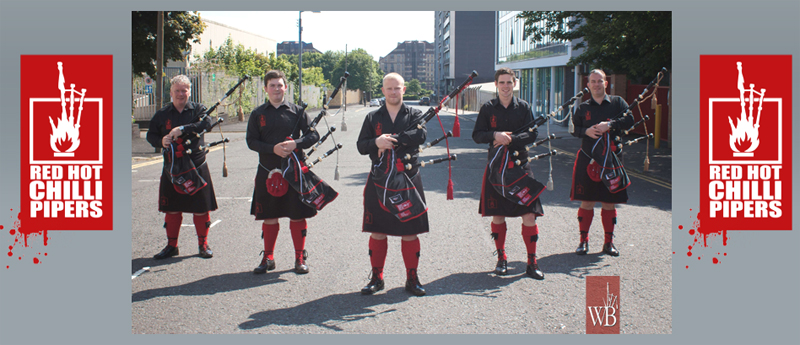 Get your very own Red Hot Cover


"You've seen them, you've heard them, now is your opportunity to look like them. Introducing for the very first time, the original Red Hot Chilli Pipers covers that we make and supply to the boys. Manufactured to our usual exacting high standard, the covers are made from premium weight grey velvet with red and white highlights, the "Red Hot Chilli Pipers" embroidered name and famous branded logo along with sponsors Wallace Bagpipes and of course - us.
To purchase this fantastic cover please let us have your bag make and size and select the appropriate Paypal "BuyNow" button for your location. Remember to tell us the bag make and size required. Free Red Silk Cords are included to complete the look.

Wallace Bagpipes now manufacture the pipes that the Chilli's use, so should you be interested in buying a set please just click HERE." Happy Piping"



Bagpipecovers.com suppliers to the Red
Hot Chilli Pipers - seen here in action!


Every cover is supplied with non-slip patch fitted to the body side of the cover as standard. No other manufacturer can offer this. Along with a generous zip, our unique design of stock sleeves, fully over-locked stitching and attention to detail, our quality covers set us apart from any other bagpipe cover on the market today. Please take a look at our online catalogue for we are confident you will find something to interest you, your colleagues or fellow band members. All trade enquiries welcome. Please contact us for details.

Please browse our web site introducing you to a new and unique range of bagpipe covers for the discerning piper. At last you can choose a cover that will do your pipes justice, and be as individual as you are.

With some fine sets of pipes costing thousands of pounds, your choice of cover should be an important decision. It's not just a nice finishing touch. Your cover should be functional, help keep your bag in place, as well as looking good. But it also gives you the ability to alter the appearance of your pipe to suit different occasions, in a matter of minutes. Any set of pipes can be transformed in a very quick and cost effective way with a new cover.



For additional information or any queries please contact us
Thank you,

Alasdair MacDonald
Bagpipecovers.com
Alasdair MacDonald, 24 Victoria Road, Whitehaven, Cumbria, United Kingdom
CA28 6JA
Tel 01946 592502
All content and images in this site are copyright 2007 Alasdair MacDonald
Web services by Lakestay.co.uk